Deprecated
: preg_replace(): The /e modifier is deprecated, use preg_replace_callback instead in
/web/htdocs/www.fabriziotavernelli.com/home/content/wp-includes/functions-formatting.php
on line
76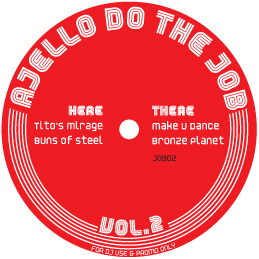 AJELLO Do The Job Vol.2 out NOW!
Ajello keep on digging hard trough their record collection to deliver the second Volume of the 'Do The Job' series who shows four different faces of Ajello's musical taste…
"Tito's Mirage" is an Italo Disco edit of a club theme composed just for the Discoteca Mirage in Tuscany. Early electro with disco flavour and new wave attitude. "Buns Of Steel" goes Boogie disco with an instrumental edit on an obscure track did by an early eighties US group called American Steel, with mainly bass line, drums and few vocals, just as it was a new Metro Area track. Ajello's Pure Disco face is represented by JB's in a Disco vein for "Make U Dance"… Late 70s disco funk with, horns, clavinets, wah guitars, trippy voices and big big driving bassline… Last but not least the Cosmic Disco side of Ajello "Bronze Planet", a track by an Arpadys side project, on the very rare Disco & Co Vol.2 album on Tele Music label.
WordPress database error: [Table 'Sql98939_1.Sql98939_comments' doesn't exist]
SELECT * FROM Sql98939_comments WHERE comment_post_ID = '1180' AND comment_approved = '1' ORDER BY comment_date
Leave a Reply
You must be logged in to post a comment.